UBB.threads Statistics Release 20210901 · Blog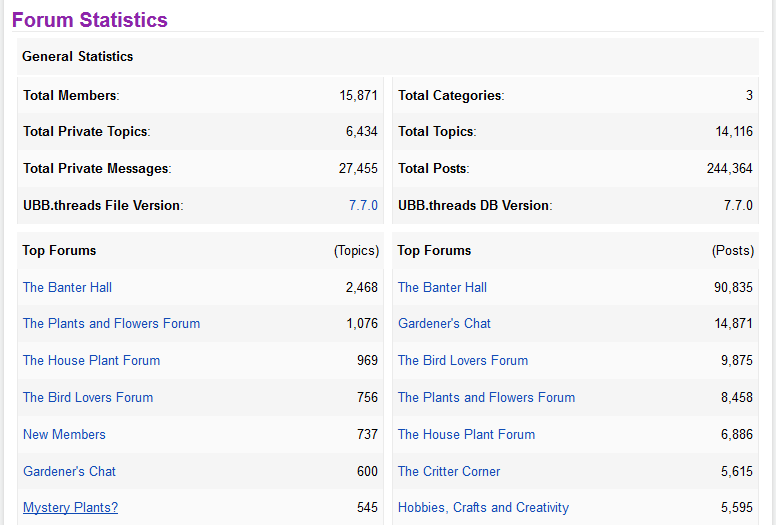 The
UBB.threads Statistics
script has been updated today (order today at
UBB.Statistics
), some huge improvements have been happening behind the scenes for all of our scripts with compatability with PHP8 being a huge goal.
In our 20210901 release we have:
Added
: Likes Statistics Added and Charted (for Top Liked Users and Top Liked Posts)
Added
: A date span can be adjusted to affect the "old"/"oldest" date calculation for "Basic Statistics"
Added
: Alpha/Beta release vs Public Release is now displayed within the script; this will allow users to see what Alpha/Beta they may be using and still allow for script update checks.
Added
: An "About Script" blurb has been added to the top of the page. This serves as an anchor for links to documentation URLs without having to open the script source.
Added
: Several comments were added to our written functions to outline their use.
Added
: Short Array Syntax adopted to allow cleaner code and flow consistently with our other scripts. (PHP 5.4 Required)
Added
: Added a newest date indicator, any activity in the charts will max out at the supplied date, no charts will build beyond this year.
Added
: Accept Admin EMail Totals Added
Added
: Placeholders added for future "Top Rated" (Topics/Users) statistics
Added
: IDs added to all sections to allow you to link directly to that statistic (ubb.statistics.php#chart-topics)
Change
: The Latest Version check has been adjusted and will now function with the changed URL.
Change
: Content can be retrieved from the database over the UTF8MB4 character set.
Change
: number_format is now being applied to all of the Basic Statistics to allow for human readable numbers.
Change
: General Statistics have been retooled and will allow for the standardized display of additional variables that can be added to the arrays.
Change
: All UBB.threads related URLs (UBBCentral, UBBDev, UBBWiki, VNC Web Services) have been updated (we're no longer using WWW in our URLs)
If you've been on the fence about purchasing I encourage you to check out our demonstration sites to see the statistics generation in play on live sites:
•
A Gardeners Forum
•
A Gardeners Forum [Archive]
•
UBBDevelopers
•
UGN Security
•
VNC Web Services
Posted on August 31, 2021