UBB.Membermap · Script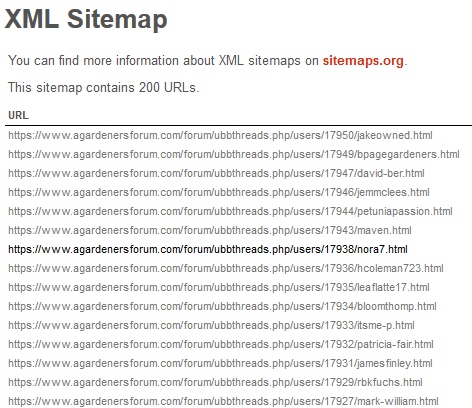 About the Addon
•
Requirements
: UBB.threads 7.x (not compatible with UBB.threads 6.x or below)
•
Current Version
: 20191222
•
Pricing
: $30 (
Purchase Here
)
•
Documentation
: Screen captures and a full listing of Developer Notes (changelog) can be obtained on the
UBB.Wiki
entry
UBB.Membermap
.
•
Support
: Support is available on the
UBB.Dev
thread
UBB.Membermap
.
UBB.Membermap is a script that we created to generate a sitemap of user profiles for search engines (Google, Bing, Yahoo. etc).
This script aids in the "discovery" portion of search engine crawling; instead of waiting and hoping that your URL's get crawled, an XML Sitemap alerts Google (or any crawlers which allow sitemaps) as to what Profile URLs exist on your forums, so they know what to crawl based on what you tell them.
Most search engines will take your feed once a week or so and run it through to determine new URLs, on a
Google Webmaster Tools
account, you can browse exactly how many URLs have been included, as well as when the last time they have hit your site.
Please note however, that Google will still crawl your site and try to perform its own discovery, so please do not use a robots.txt entry to block it (as it must be able to crawl the content provided in the sitemap in order to populate your entries).
The configuration options allow you to specify which type of sitemap you wish to use and what type of content within profiles you wish to target (minimum posts, populated custom fields, etc).
Pricing
:
• $30 - Sitemap Script (Per install; as this is a licensed script, each unique install requires a separate license. Includes 1 year of updates (365 days))
• $30 - Script Installation Services
• $30 - Additional Year of Updates.
How to Buy
:
You can purchase this script, install services, or renew your updates by clicking the order button below.

Note · Notice
This script is not freeware, it requires a license; by purchasing a license you're granted usage on 1 (one) UBB.threads installation. Any additional installations require an additional license. Updates are available for 1 year after initial purchase; after this timeframe, to aid in development costs, you must renew your access to updates (see the purchase link above for further information). You cannot freely provide this script to others without written permission from the author.
Posted on October 8, 2016
·
Updated on December 22, 2019