Bing Webmaster Center · Article
What Is Covered
•
Summary
•
Adding a New Property
•
Verifying a New Property
•
Managing an Existing Property
•
Sitemaps
Summary
Bing Webmaster Tools
, formerly Bing Webmaster Center, is where a site owner will go to manage their search engine property for their site(s) search results within the Bing Search Engine. Other providers offer similar tools, such as the
Google Search Console
.
Adding a New Property
When you're at the main Bing
My Sites
page you'll see an "Add a Site" input box at the top of the page in an area titled "My Sites", enter your domain and select "ADD" to begin.

If you did not already have a property on the "My Sites" page, you'll instead have an "Add Your Site" button.

Once you select "ADD" you will be directed to the "Add a Site" page: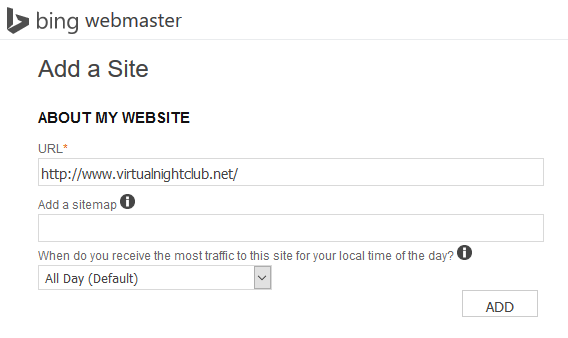 Fill in the requested information and press the "ADD" button and you're ready to proceed to verifying ownership of your domain.
Verifying a New Property
Once you've added a new property to the Bing Webmaster Center, you'll need to verify that you are the owner of the domain.
If this is your first time to the Bing Webmaster Center you will be prompted for additional information about yourself for their system during this step.
You can choose to verify your domain via uploading a file (BingSiteAuth.xml) to the root of your web space (recommended), or by using one of the alternative methods:
•
HTML Tag
- Add a Meta HTML Tag to your website's coding.
•
CName
- Add a CNAME entry to your site's DNS settings (note that most users may have issues using this method as some hosts do not allow editing of the DNS zone on their servers).
Managing an Existing Property
Once you have verified that you're the owner of the domain, you'll be able to manage the property from the Bing Webmaster Center.

Sitemaps
Now that you've verified your property you can manage the Sitemap entries for your domain. A Sitemap is a file which instructs Search Engines as to what your content is, and where it can be found; basically removing the need for them to have to crawl and discover your content on its own (which it will still do), only now you're telling it where your content is, so they can immediately crawl it for new data.
One thing that you'll need to keep in mind is that once you've submitted content to a search engine, they'll still crawl it and decide if the information on the page(s) is worthwhile to include in search results; there are times that they simply won't include every page that's submitted.

To manage your sitemaps, click on the "See all X with options" under the Sitemaps option on the site overview page (which is displayed when you select the property in the step above.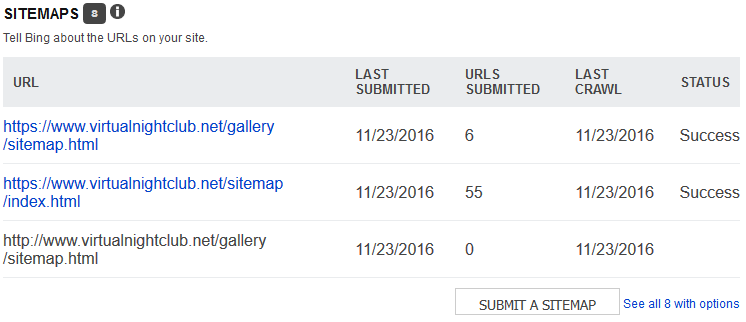 Now that you're on the Sitemaps Overview page, you'll see a "Submit a Sitemap" input box at the top of the page.

When the Submit button is pressed the new sitemap will immediately display in your list; note that, unlike the Google Search Console, the Bing Webmaster Center wants a full URL to the sitemaps you wish to add.
If you're installing the
UBB.Sitemap
or
UBB.Membermaps
scripts you'll want to add "http://www.example.com/ubb.sitemap.php?type=6&se=1" and/or "http://www.example.com/ubb.membermap.php?type=6&se=1" (being sure to replace http://www.example.com/ with your domain).
Posted on November 28, 2016